President Trump and VP Pence and Senator Gardner were in Colorado Springs this week for one of Trump's rallies: that loathsome combination of a bad stump speech, a bad stand-up routine, a bad rant from your drunk/senile racist relative, and a Nuremberg rally.
I went to the protest outside the World Arena, and here are things I want to remember before my thoughts start to fade.
It's not that fun
I planned to go, made a poster, told lots of people I was going, both to try and get someone to come with me and to make sure I wouldn't back out. Starting the evening before, I really didn't want to go. Being there was not exactly fun, though it did feel good to yell out my anger. By the time the protest was ending the sun had gone behind the mountain and it was getting quite cold. My throat hurt, my back hurt, the traffic was terrible.
It's disappointing that more people aren't there
I had heard that Trump's rallies in recent years were losing attendance, but with the election less than a a year away and with the right-wing leylines of the military and fundamentalist Christianity crossing in the Springs, that certainly wasn't the case at this event. There were 10,000 – 20,000 fascist sympathizers there to hear Trump attack the press, mock his opponents in schoolyard bully terms, and spew racist garbage, and maybe 200-300 people there to protest.
Protesting were a bunch of Boomer traditional Democrats, a smallish group of more radical leftists (anarcho-socialist flags, face masks, etc.), and a bunch of harder to classify people like me. Two small groups of college students recognized me, and I saw one other college staff member. I didn't see a single CC professor which made me unreasonably angry. Professors are incredibly busy doing important work for the college and their students, but they are also incredibly autonomous and privileged. I was just really disappointed none of them made it out.
I can't blame any individual for not showing up, and this is only the second protest I've been to in four years. But that doesn't make it any less disheartening.
I need to help organize
So if I want more people to show up next time, I need to do more than just talk to friends and make some Facebook posts. I need to help organize on campus, help people make signs, give people rides, etc.
The opposition are happy to be seen as cruel tasteless cretins
They wear tacky crass stuff like this, or t-shirts that say "fuck your feelings." I got flipped off by a ton of passing boomers. I did feel a little sorry for this fascist souvenir vendor who had their table set up right where the protesters completely obscured it. But not too sorry.
I shouldn't be anyone's pawn
One dumb thing I did at the protest was to start chanting "Nazis out!" at an InfoWars jerk with a camera and a microphone. He said, "who's the Nazi? Me? I'm a Jew!"
So I should have probably just stuck with my original plan to just tell people to "enjoy your hate rally." I hope I didn't end up on some dumbass InfoWars reel, giving them free content.
There were also Trump supporters taking photos with protesters in the background. I tried to move out of the way for those.
But I also felt this from the protesters, too. The more radical protesters wanted us to get in the street which was fine, and the cops allowed it. But toward five o'clock as Trump was scheduled to start speaking, the organizers of that group wanted to try and close down the road. The assembled riot police got ready to move in immediately. This is when I left.
I felt bad at first for not being willing to get arrested, as they were hoping more people would fill the street. But then I thought of how poorly that had been planned and they shouldn't have been expecting people to join them who hadn't already planned on getting arrested. Plus it was such an empty gesture. It wouldn't even symbolically interfere with the rally that was underway inside.
Cops are dangerous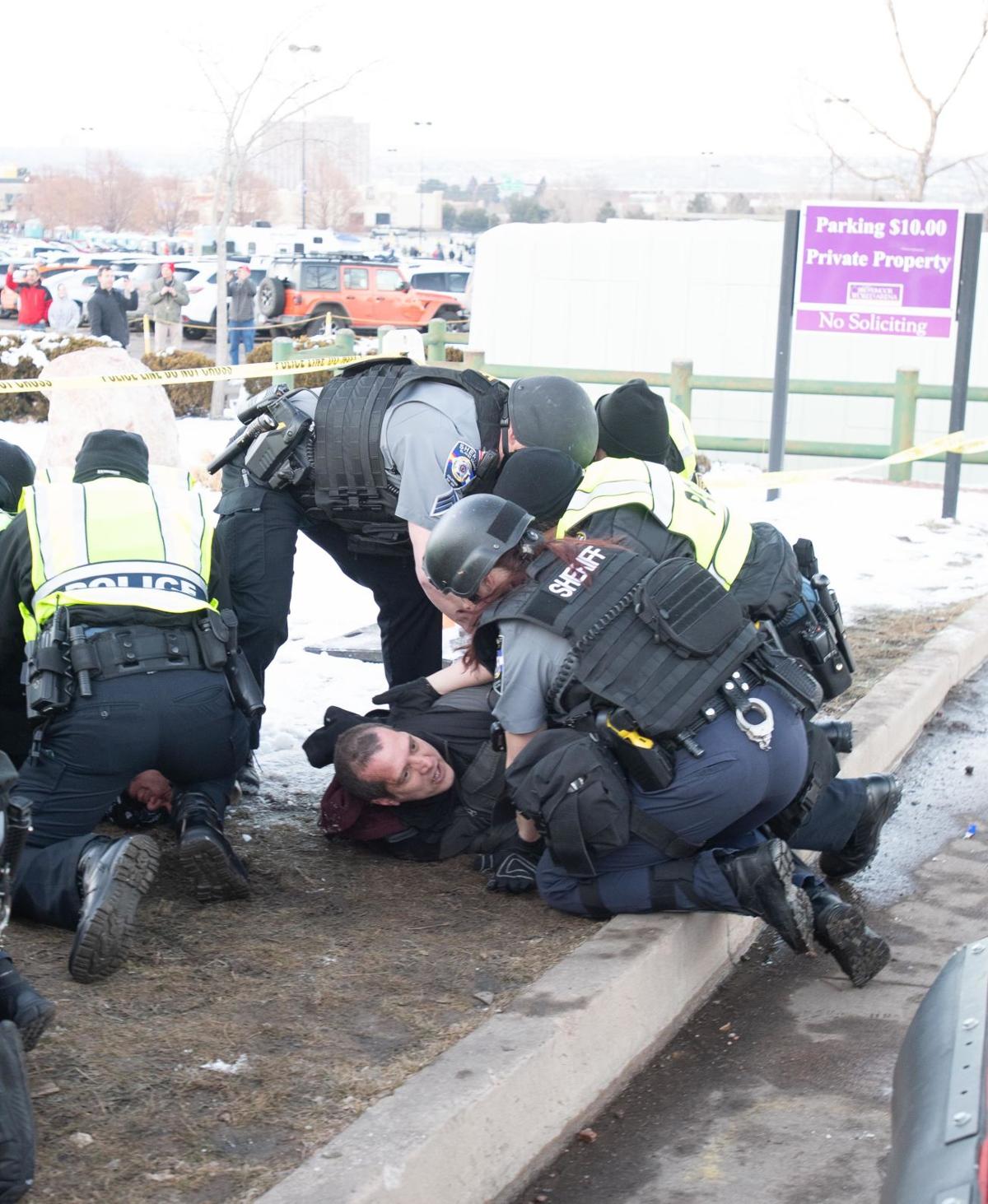 According to the Gazette,
Friday, Sgt. Jason Newton said officers issued "several warnings for the protesters to move from the street and back onto the sidewalk."

"Several protesters decided to take that opportunity to move; a few didn't," Newton said. "In order to protect public safety, we made a decision to move in and make those arrests.

The protesters who didn't move from the street were causing a hazard to public safety, Newton said, citing Colorado Springs' increasing pedestrian death tolls over the past two years.

"In situations like that it's extremely dangerous for community members to step out onto the street," Newton said. "We want them to express their First Amendment rights, we just want them to do it in a safe manner. Our two main functions are to ensure public safety and to protect the constitutional rights of everybody involved."

https://gazette.com/news/police-protesters-arrested-at-colorado-springs-trump-rally-disobeyed-officers/article_8d3779d6-54f0-11ea-b87a-5f7720d5d65f.html
Does it make sense to arrest people for their own safety and put handcuff them on the only wet muddy ground in the area? Maybe that's better than on the pavement?
Until next time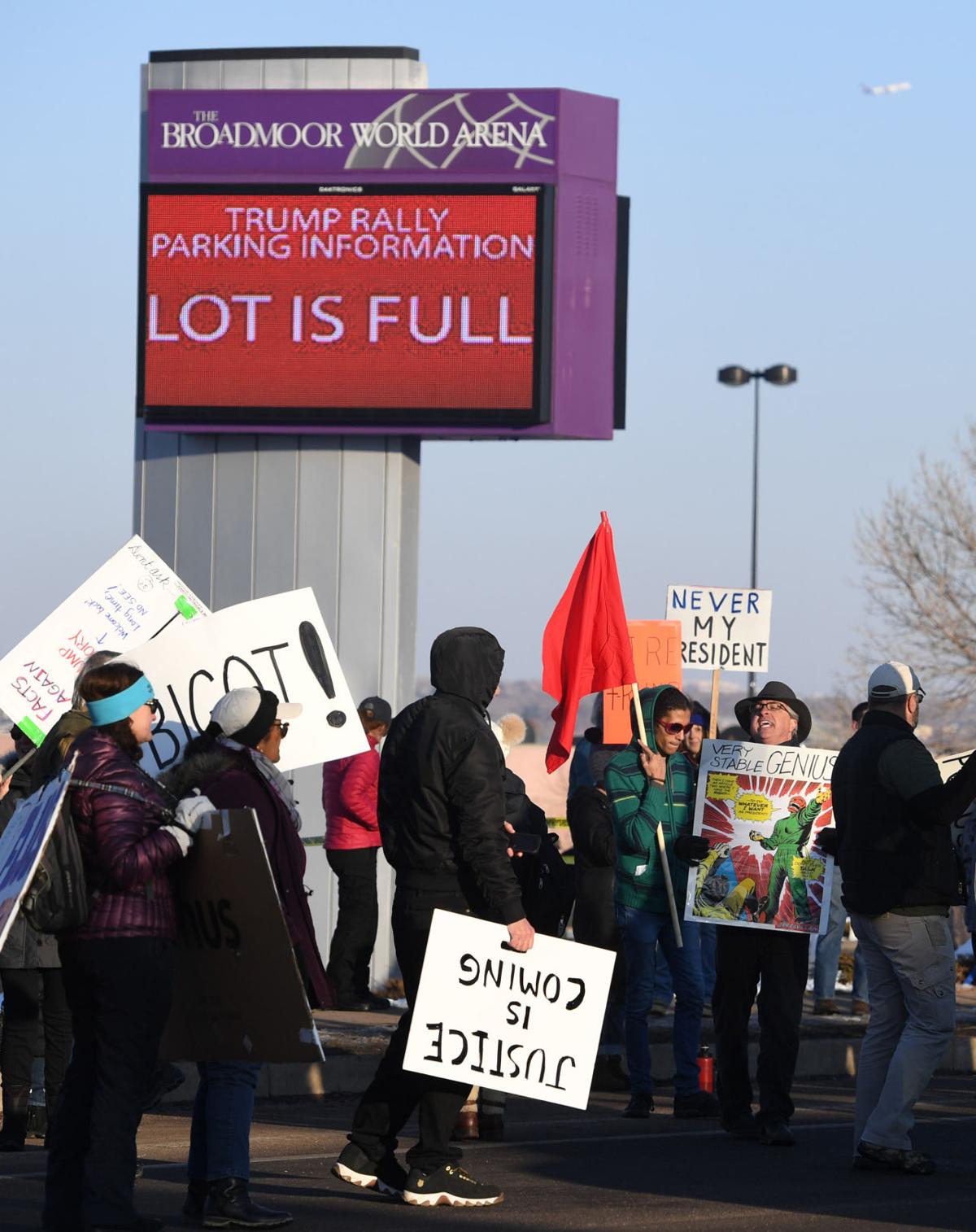 I guess that's all I have for now. I thought it was important to go. I think it's important to be ready for what's to come. I'm anticipating the 2020 election will have tons of irregularities from Russian interference, sophisticated and well-funded disinformation campaigns, and Republican voter-suppression techniques. I'm afraid that Trump will lose the election (popular and electoral votes) but will move to throw out the results and remain in office. If that happens, I fear we will need millions of people in the streets and, I hope, the support of the military elite, who I think must absolutely detest Trump. We certainly can't count on the cops.
Edit: One more little thing
The smartest thing I did that day was to tape a ribbon to my sign to use as a neck strap kind of like an old-fashioned sandwich board guy (I guess I was an open-face sandwich). It meant my hands were free if I wanted them to be.